"Dance is an expression of joy and success. It is one of the ways to welcome happiness"
Ghoomar dance is a traditional folk dance of Rajasthan and Haryana. It was inherited by Rajasthani communities from the Bhil tribe. Bhil tribes are the inhabitants of Madhya Pradesh, Maharashtra, Gujarat and Rajasthan. Ghoomar is a traditional dance form which has its origin at Marwar in Rajasthan and performed to worship Goddess Saraswathi.

This traditional dance is performed by the women who covers their face by a veil. They wear a long flowing dress called 'Ghaghara'. Ghaghara dress is a three-piece attire of a long skirt which is embroidered, and pleated and a shawl and a blouse. All these three is heavily embroided and give a grand look to the attire. Kundan, mirror or silver jewelries were used as accessories for the dance. The colors and motifs of the outfits make the dance extremely appealing to watch. Interestingly, the zari work and the amount of embroidery on the ensemble also indicate the how prosperous the family is.

Ghoomar literally means "to twirl in circles" and it gives the name to the dance. The basic step of Ghoomar is 'ghoomna' or a twirling movement accompanied by clapping of hands and moving in circular fashion. Women from Rajasthani community perform this dance during festivals and religious occasions.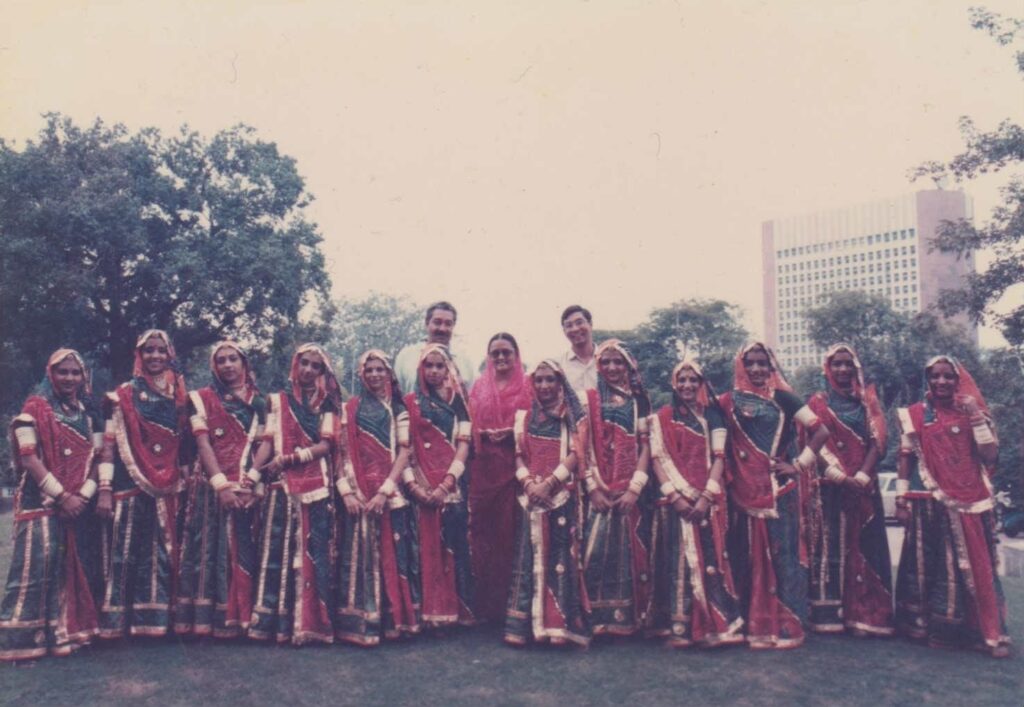 The graceful dance form is presented usually by newly married young brides at their new home where the vibrant whirling skirts create a kaleidoscope of colors and spreads happiness and jubilation. Colors like red and green are considered auspicious for religious gatherings and denotes prosperity. It is also performed in wedding ceremonies or religious events. And the famous example is Rani Padmavati performed Ghoomar when she came to Chittorgarh, capital of Mewar as a newly married b(p)ride.

'Gangaur Ghoomar Dance academy' was established by 'Maharani Rajmata Govardhan Kumari' of santrampur in 1986, to preserve and promote Ghoomar folk dance. The Indian government awarded her the Padma shri, the Fourth highest civilian honour of India, in 2007, for her contributions to art.

Ghoomar wasn't just an act of art but also meant to be symbolic of femineity. Young girls of Rajput community take place in the dance, making it to everyone that they were stepping into womanhood.
Now-a-days-, this dance is performed by women of all ages and is mostly cherished as a historically and culturally-rich entertainment form. It showcases the rich culture of Rajasthan through aesthetically pleasing movements and traditional attire. Once originally the skirt was slightly below knee length but with time it has reached the ankles. The increase in length is compensated by the flare that allows for easy movement making the swishing colours a delight to watch.
One of the very well-known traditional styles from India Ghoomar is not only about the skill and precision but also the stamina, as it is performed for hours at festivals, weddings, and social gatherings. The music may be slow at the beginning but as it starts to progress the song as well as the movements gets faster and the tempo of the dancer also increases in synch.
It may look simple but is complicated, especially for first-time dancers but practice makes it perfect.

"To dance is to be out of yourself. Larger, more beautiful, more powerful… This is power, it is glory on earth and it is yours for the taking" – Agnes De Mille